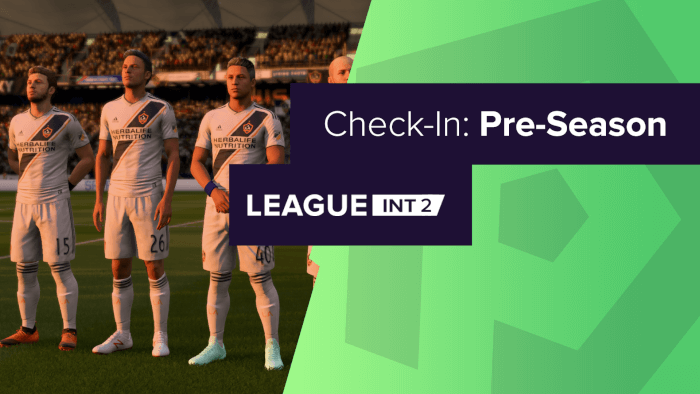 S24: Check-In | League INT.2 | Pre-Season
Veröffentlicht am 03.Jul.2021
-
League News PC

von BigSurge
-
6095 mal gelesen
Welcome everyone to the ProLeague INT. 2 Pre-Season Check-In. In this article, we will look at the new season! Which teams will be predicted to win the league!
---
Worker Bees: Will the bees buzz to the title?
Predicted finish: 1st
Darius-XII and edwinscott's brand new team should be able to shoot to the top with a star studded lineup. After qualifying for ProLeague INT2 through the Qualification tournament, this side will be looking to grab that INT2 title in their debut season.
The international team seems to have been making a statement with their signings. Adding to their squad with some very strong transfers in namely: Niki96 from last seasons League ONE and Champions League champions, Klaudius the strong performing CDM, Akeemecox and wBz-7odaa. Statement signings from a team who will want nothing but the title.
No pre-season departures from the Bees allowing them to go into the season with no sudden losses.
From the looks of it, it seems that the team will be aiming to dominate the midfield with its extremely strong pivot players and then to lay it on a plate for Darius-XII and edwinscott to finish the job and put it away.
All this will of course depend on the performance of their key players and their overall chemistry as a new team. But with their players' wealth of experience, anything but the title will be a disappointment.
VFC Dinamo: Will they create a shock this season with some electrifying performances?
Predicted finish: 2nd
The Romanian team led by FANATICUL96 has never missed out on a top 3 finish in the PL ROU, very consistent performance, and they are finding it easy to make the step up to PL INT finishing 4th last season in PL INT2, 1 point off of 3rd place. So this is a season to watch for the Romanians.
The off-season for the Dinamo squad has witnessed a turnover of 4 players coming in but 2 of those 4 going back out the way they came but Mtudy12 and Colderino13 coming in to reinforce the attack at CAM and ST. So with a strengthened attack, they will be looking to score multitudes past their opponents.
The Dinamo squad has some seasoned players in Son-of-Happy, FANATICUL96, qTpViC and some inexperienced players with plenty to learn throughout the season as Dinamo push for their INT title.
This will obviously depend on how clinical Son-of-Happy can be, how consistent FANATICUL96 can be in his shot-stopping or the defensive performance of JDMdead!
So I can see Dinamo being in the running for the title!
JustWatch FC: Former Turkish champions to be the Ones to Watch?
Predicted finish: 3rd
The former Turkish champs are, for the first time, in the INT leagues and they will be aiming to start their INT campaigns with a bang.
After running up in 2nd in S23 of the Turkish league, their plan for INT2 will surely be along the same lines.
After some consistent finishes in the Turkish league, the team dreams of more. With a busy transfer window, we saw the arrival of players like IW-Venomkiller and maliJ22 for the midfield. With a familiar face returning to the club in Akman to slot straight back into the defence alongside cosminovidiu and ncdtkrts for the defence and JasswaP to go in between the sticks.
The newbies to INT will have to rely on quality of their attack with ErcanAyan and raxy_1337 leading the line up front and their defensive solidity with akdag58, Akman and cosminovidiu. But there is no doubt about it, there is quality and potential in this team and with a season ahead, they may very well come out on top.
No Drama: Swedish Powerhouses!
Predicted finish: 4th
The INT3 champions team will be looking to continue their fantastic form and gameplay this coming season after a storming season in INT3 seeing themselves come out on top at the very last matchday by just one point.
They have managed to keep the majority of their team from last season, seeing just 2 depart the squad. However, they reinforced their squad by signing Genoo at CDM from Acheron and experienced LB and CB Nathan Oxley from last season's English and German Cup champions Ragnarök FC. Their attack received a help after signing free agent Romain at CAM and daniiNL, who has racked up experience at many big clubs in the past including Venom, Tempo and Outlawz.
With strong reinforcements coming for No Drama, they will be aiming to replicate last season's success in a stronger, bigger league.
No Drama will definitely be near the podium this season but will they be consistent enough to push for it?
Mav3ricks eSports: Will the Spaniards improve?
Predicted finish: 5th
After a debut season in INT2, where the Spaniards finished 6th having the second strongest offense in the league, they will be wanting to continue their fine attacking form going into this coming season.
Boasting a 20 man strong squad after their transfers, they will have one of the biggest squads in INT2. Having a big overhaul, allowing 4 players to leave their team but replacing them with 6 strong players in varied positions, allowing Mav3ricks to ensure they keep a position strong squad. With experienced players in Sotov2 and Reciox95 coming in to bolster the squad, inexperienced players in Galope, Juanpach9, IGaabri and Nano_7 join them to learn and play.
A strong transfer window from Mav3ricks will be making them want to improve on their final position of last season but I can only see them advancing by one place but to see them fighting for the top three wouldn't be definitely off the cards.
Ingravidos: Successful on the international scene?
Predicted finish: 6th
After featuring in just one season prior on ProLeague, they join the INT league with many of their players possessing just last season as experience. They will definitely be looked at as the new boys on the block.
Starting the season on the back of a busy transfer window which saw the Spanish side have 5 players walk into the squad and 3 passing them as they walk out the door into the land of Free Agents. Signing Ivanlosar and BalinhaJr to solidify their defensive line and signing not one but two goalkeepers this window in sergiosanfer13 and IsmaelPORT means that their defense will be one of the toughest to break down this season.
Will they manage to start their INT campaign off with a strong and steady start leading to a top 6 finish or will they slack and fall off of the bandwagon?
I believe that Ingravidos will be a bit higher than pre-existing, more experienced teams in the PL INT but with some strong performances in this league they will be one of the ones to watch.
Dying Breed: From relegation battlers to promotion pushers?
Predicted finish: 7th
The English team are the most recent to receive an unwelcome gift from PL INT as they were relegated in their first season in PL INT1, going straight down to INT2 after failing to regain their INT1 status through the Qualification tournament knock out stages for this season.
After finishing 14th in PL INT1 and 3rd in UK/IRL League, they have some proving to do this season. A rocky first season will allow them to surpass expectations and I think they will come 7th.
The English based team has had a busy transfer window seeing 10 new players join the squad, including seasoned Egyptian CB Lancer and CB john_yuki. mld0205 rejoins the squad after a hiatus and the scotsman fearwarrior1 joins from ICONS.
On the departure scene, they lost wBz-7odaa to Worker Bees, Cooopar and CraigyboiXx swapped their scenery for the English league champions Ragnarök FC. Alby departed and returned to former club Orcastrated and Rambow changed leagues to join the GER League One and NYCE.
They have gone for a massive squad overhaul and only time will tell on whether they can get their chemistry together ready for the start of the season and to push for that top 6 position.
Majestic VFC: The Turkish veterans begin their 2nd INT campaign!
Predicted finish: 8th
Another Turkish team in PL INT2 this season and they remain here after a debut season which saw them finish in 8th place, the exact same spot I predict them to finish this season.
Boasting a 16 man strong squad, Majestic VFC contains a mix of seasoned Turkish players and inexperienced PL INT players which will show for an exciting season ahead.
Losing 5 players this season, they have signed 8 more to fill the gap left which includes Ulucu who has previous PL INT experience and seasoned veteran orcuna who will fill a gap up front.
I don't think this team will particularly struggle this season and I think that they will be on course to finish in a respectable 8th place.
Orcastrated: Will they swim to glory or will they be hunted down?
Predicted finish: 9th
After a disappointing season in PL INT last season, they finished 10th after a squad makeover and one of their managers leaving. This season they will be aiming to improve on that but it won't be easy.
Signing former Hyve Central FC managers Beaniho and SirMadMan, they bring on experienced players capable of performing in PL INT, joining them they had former player Alby rejoin the squad after a season away at Dying Breed.
The squad will no doubt be left with a hole to fill after Connor, their welsh midfielder, left the squad in the off-season after spending the last 2 seasons with the squad.
Although their signings show that there will be plenty of experience within the squad, I believe they will struggle to pick up the form to challenge for the promotion spots and finish comfortably in mid-table.
CSV Steaua: Midtable mediocrity or Iconic performances to come?
Predicted finish: 10th
After finishing 4th in last season's INT3 campaign, they saw themselves rise to the occasion in the Qualification tournament where they sealed their spot in PL INT2 this season. Boasting one of the best defenses last season and the joint lowest losses recorded, they will be aiming to continue their defensive solidity.
With a very quiet window which saw 1 player join and 1 player leave, Steaua are going for continuity and stability in their lack of departures and signings which may very well pay off.
I think their previous defensive records will be enough to ensure the Romanians a mid table finish in their first ever PL INT2 season.
Paramount FC: A season's hiatus and they return!
Predicted finish: 11th
Having been in PL INT since Season 20, they have taken a seasons break to then return in PL INT2 this season where they have spent the entirety of their PL career.
A very busy window for the English side which saw 7 players join the squad to boost their squad size to 22 which includes seasoned veteran of ProLeague Rustyjh67 who has past experience at Romanian giants Juventus Bucuresti.
The squad seems strong enough to avoid a relegation battle but their playstyle may be cause for concern as they prefer to have a defensively solid performance. Reaching the Semi-Finals of the UK/IRL Leagues FA Cup, they will look to continue their performances in PL INT.
ICONS: Midtable mediocrity or Iconic performances to come?
Predicted finish: 12th
Last season's midtable finishing side, ICONS will be looking to improve on their previous standing after finishing in 9th. However, I doubt that they will have the squad depth or the quality needed to improve on it and they will finish much lower than previous seasons, as they have just 12 players in their squad at the time of writing.
The UK based side has been busy signing 5 players including former Venga Venga duo xBenbala and Boti but losing 7 during the off-season including long time player xXTamelessxX.
ICONS will struggle this season with a small squad and loss of key players unless they turn it around midseason.
AFC UTA Arad 1945: Will they be classy enough for the league?
Predicted finish: 13th
The Romanian team will soon start its second season on PL after performing in the Romanian League last season. However, this is their first in the PL INT and I think it will be a tough one for them.
With a very busy and action packed transfer window, UTA Arad will have a long way to go towards chemistry as they signed no less than 19 players for their squad which is an insane amount of players to sign in one transfer window. Minix has been practising his Football Manager skills for this window.
It will be a tough one for Minix to determine his first XI for their debut PL INT season due to the wide variety of players available but i still think that they will struggle to pick up form and won't avoid a relegation battle.
CoCo BayLando: Will their performances be as entertaining as their badge?
Predicted finish: 14th
With a 28 man strong squad, they will have the widest amount of players available but they had a very quiet transfer window which saw no players join and no players leave. And that means CoCo will be looking to perform solely on their players from last season. This offers little to the team as they finished 5th in PL INT3 last season and were 4 points off of 4th.
Based on their slow window, I don't think they will be able to avoid the drop this season as the quality in their squad won't be enough to keep them up.
Their squad consists of former Ragnarök FC player Mrlglasty, Szubuss_PL and Qwaxo_PL, the latter scoring 16 goals last season in PL INT3.
Ukraine
Disbanded
AFC Crusaders
Disbanded
---
Surge's season prediction of INT.2
---
3 Kommentare
03.07.2021 um 22:00
---
---