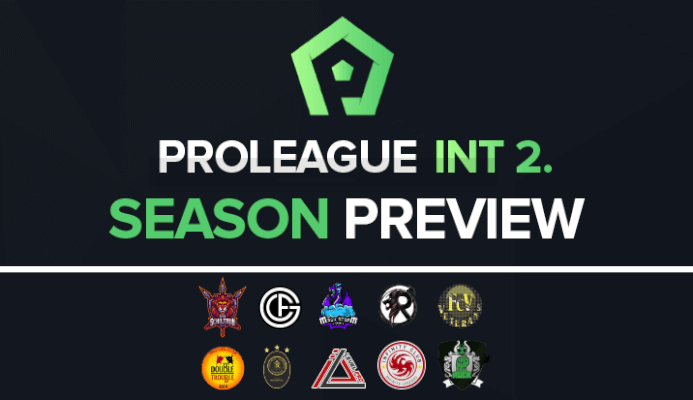 ProLeague International Season Preview Division 2
Veröffentlicht am 20.Oct.2019
-
League News PC

von Trempale
-
15755 mal gelesen
Einleitung für alle deutschen Leser, dieser Preview handelt nur um die zweite PL INT. Wir haben diese Saison die Möglichkeit die zweite Internationale Liga wieder zu öffnen. Weiterhin werden wir auch wöchentliche Reviews schreiben. Wir hoffen, euch gefällt der neue Content und es macht euch Spaß, die PL INT diese Saison noch mehr zu verfolgen. Viel Spaß beim Lesen!
Welcome to the Pro League International Division 2 season preview! New teams will be battling it out in a new league in which no one is quite sure what to expect. The prizes of promotion, European competition and bragging rights will make for some tense and exciting games. So without further ado - good luck, have fun and let's take a look at the teams:

TEAM PREDICTIONS
Double Trouble
A Russian team with a year's worth of chemistry, Double Trouble expect promotion from Pro League International Division 2 and aim to impress in European competition. Although a small squad, and none of the players with any Pro League experience, 2nd - 4th place is the least they would consider a success. Management have confidence that the players at Double Trouble are strong and very capable of reaching Division 1 in their first attempt and performing well against the big boys next season.
Manager's MVP: Fixpro - GK
FC Veterans
Being new to the intensity of Pro League, management at FC Veterans are justifiably cagey with their league target - a top 6 league finish. They are however more daring in their hope of a solid run in the Pro League Cup. Depending on what 'solid run' means to them, they may or may not be satisfied. This team has a clear theme of 'years over youth', making a point of recruiting the older generation wherever possible. Off the pitch, the Grandpas of the league have been busy cultivating what they hope will bloom into a thriving online community: A website, newsletters and a discord bursting at the seams. These guys are having fun win, lose or draw. Management believe that - should there be sufficient service - he himself will be the danger man of FC Veterans.
Manager's MVP: FcV-Fongu - ST
Gravity
With such a wide range of nationalities this truly is an international team for an international league. Boasting plenty of Pro League experience and initially disgruntled at their placement in division two, Gravity consider themselves the favourites for promotion this season and a Div 2 title the least acceptable prize. The team they have defensively and offensively - and a certain trickster ST in particular - will give Gravity every chance of promotion and allow management to plan their battles with the likes of Legacy, Revival and SimpleX in Division 1 next season.
Manager's MVP: Tobaiis-7 - ST
Hulk FC
An established team having enjoyed previous success, Hulk FC is a familiar name in the PC Pro Clubs community. Recently, there have been a few signings to replace departed players, but the hard core of the team remains. Management are more conscientious than to declare "HULK SMASH!" and conservatively estimate a 5th or 6th place finish regardless of respectable performances elsewhere. Hulk believe their defensive unit will serve them well in some tough games and nominate their star CB as their one to watch this season.
Manager's MVP: FiboboSk - CB
Infinity
A Tunisian team with the significant majority having played together since FIFA 13 - Infinity have seen it all. Almost! International Division 2 will be the first Pro League adventure of all but 3 of their tiny 10-man team. With so many years together however, this team has felt the heat of battle before now. Of course, with as much game time as they have, Infinity expect promotion and are of the belief that team chemistry and understanding will serve them well in a league full of ambition.
Manager's MVP: Brazzskills - ST
Level Pro
Having competed in the Super Int. 1 in season 15 during FIFA 18, Level Pro are the only team in Div 2 with any Pro League experience, limited as it is. Their roster looks to have been somewhat mothballed having been inactive since early 2018, but we'll see if these guys actually get going. Having had no response from their manager, we can't comment on an MVP.
Magic Storm E-Sports
With an enormous squad of 32 registered Pro League players, one wonders how Magic Storm E-Sports will manage to spread game time satisfactorily. A team of entirely Polish players (excepting one German), Magic Storm have undergone a period of rebuilding in the run up to their first Pro League season. It's probably fair to say they've taken on too many players for a 10 team league, but management are not without experience. Their core group have been together over the past 3 years and they're targeting the Division 1 title. Management have nominated an exciting forward "who can score from anywhere" as their biggest weapon.
Manager's MVP: Kokainowy - ST
Redemption FC
From Italy, Redemption FC are a close group with many being friends off the pitch. Unsure of their Pro League placement, a top 5 finish in Division 1 was the initial expectation, but having re-evaluated, and with their Division 2 status confirmed, they believe promotion - ideally with the league title - has to be the target. As is surely the case for all teams in Division 2, management concede that the level of the league is still a mystery to them. Redemption FC will take each game as it comes in the hope that their level is good enough for promotion.
Manager's MVP: Mattysaints - CB
Renaissance
A majority UK & Ireland based team, Renaissance have been gathered together in the last 3 months from a couple of familiar groups - everyone with plenty of Pro Clubs experience. There have been a few recent departees, but with 16 registered players, Renaissance have a workable squad size. Looking at probabilities for season 19, management are less 'gung-ho' than some - stability being the number one priority. A respectable season and a platform for progression is the sensible target of this team. Manager, Kells clearly admires all of his teammates' ability, particularly their CB/ST Slothman and although having nominated himself as "the best looking player" in the team, it's the multi-talented Scotsman who has been nominated MVP.
Manager's MVP: SlothmanGM - CB/ST
Schiltron
Last but not least! A new team with players rich in Pro League experience. The Scottish core of the team is already close having played together through international tournaments. Others have played together in clubs over the last couple of Pro League seasons. Going into the unknown of Division 2, the club managers believe that with time and effort and a pragmatic approach to games, there is enough in the squad to be pushing toward the top of the table. Defensive strength is a feature of Schiltron and there is no one stronger defensively than their goalkeeper - the mad but excellent Swedish legend, Fighter!
Manager's MVP: Fighter (Amindakhli1) - GK
---
0 Kommentare
20.10.2019 um 17:30
---
---